It's here! The Cocoa Mountain T-Shirt is here! View all news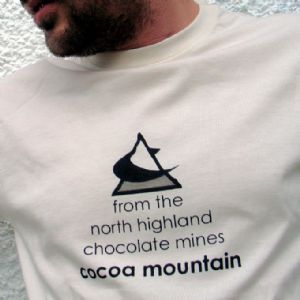 Suitable for all weather conditions, we introduce the Cocoa Mountain organic cotton T-Shirt...
Unlike in Durness, the weather for the rest of the UK cannot always be guaranteed sunny, which is why the new Cocoa Mountain T-Shirt is so special - it's all weather. Wear it under a jumper, under a coat, or even indoors, for work, and even in bed! This truly is a versatile piece of clothing that will make your friends green with envy.
The T-Shirt is made from organic unbleached cotton, and has been hand-printed in Scotland. It is available in a range of sizes including small, medum, large, XL and XXL. Further details can be found on the left hand side menu under 'Gear and Fun Stuff'
Thank-you