It's so sunny, we've had to invent the Cocoa Mountain T-Shirt... View all news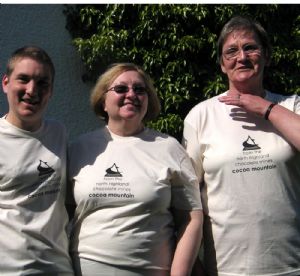 Believe it or not, Durness has been sunny for over 3 weeks now, so we've had to lay on T-Shirts for hot customers...
...and they don't come much hotter than these three ladies - three of our absolutely most fantastically lovely customers who we've got to know very well over the last two years.
The T Shirts are all made from organic unbleached cotton and hand printed in Scotland. Available in small, meduim, large, extra large and extra extra large, each shirt is printed front and back in black and grey and will be available online soon.
(Many, many thanks to our models.)