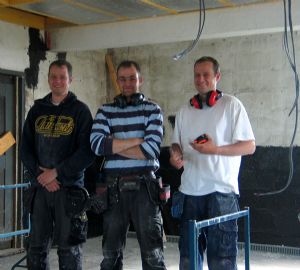 Meet (from left to right) Magnus,George and Jamie - the latest (albeit temporary) additions to Cocoa Mountain...
Yes, work is well and truly under way on the new building, as evidenced by this typical picture of the three joiners standing around (only joking guys). Besides working very long hours and being extremely helpful, these guys like chocolate...which helps.
Why 'boys in blue'?
Well, the new building was always known as the 'Blue Building' and we wish to continue the tradition - when you visit, you will see why - it's BLUE!
Current progress is that the wiring has been installed, and the frame for the ceiling, and ceiling insulation is in place. Half of the new windows have gone in. The next stages will be to start on the flooring and internal walls, at which point, this massive open space (about 200m2) will be divided up into the stores, chocolate workshop, loos and chocolate bar. Watch this space, it's getting exciting!